Schools
In addition to our school tours, Parliamentary Education Services has several programs that we run free of charge for school students.
For further information about any of our school programs please contact us by Email or
Phone (08) 8946 1434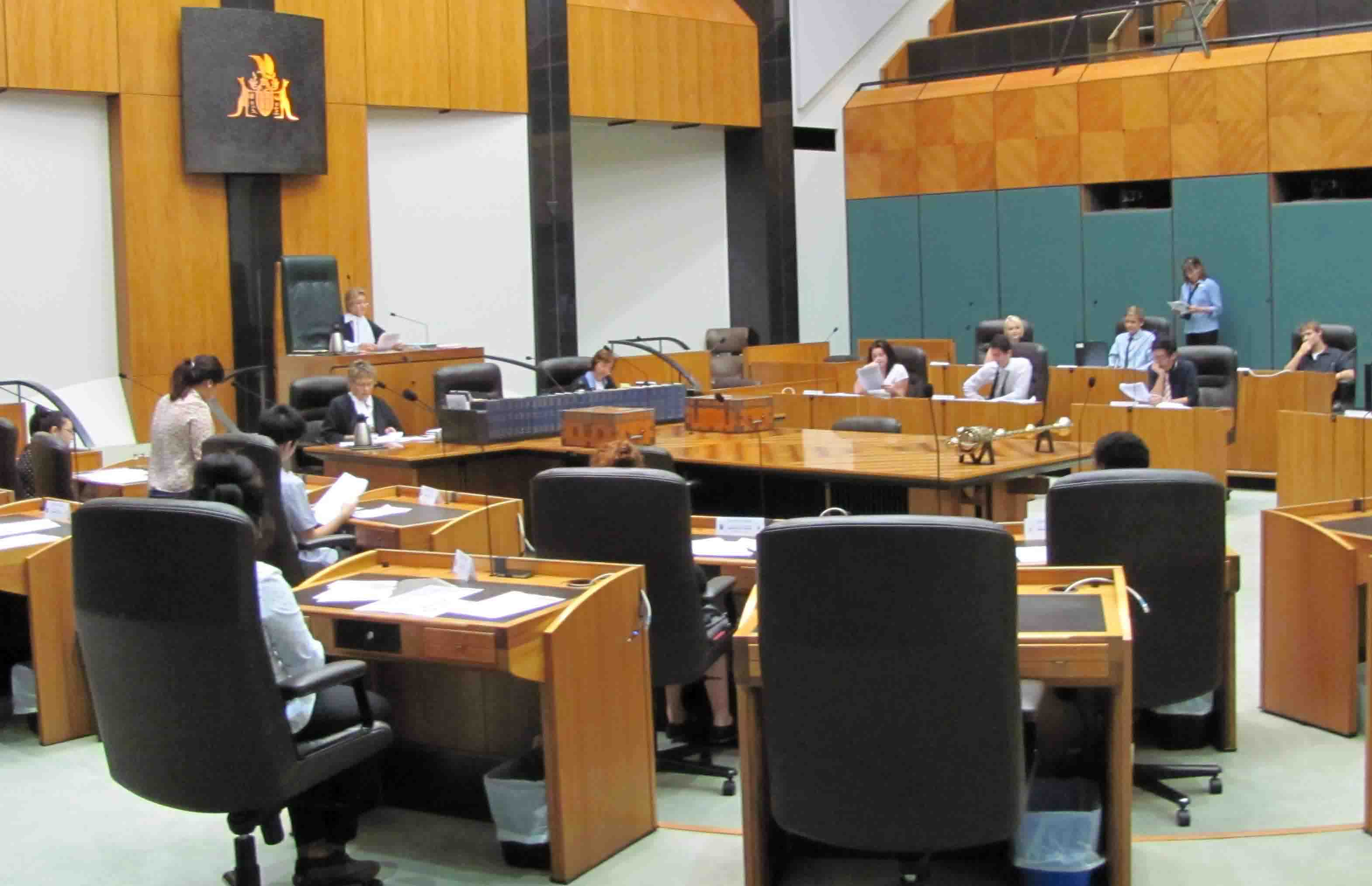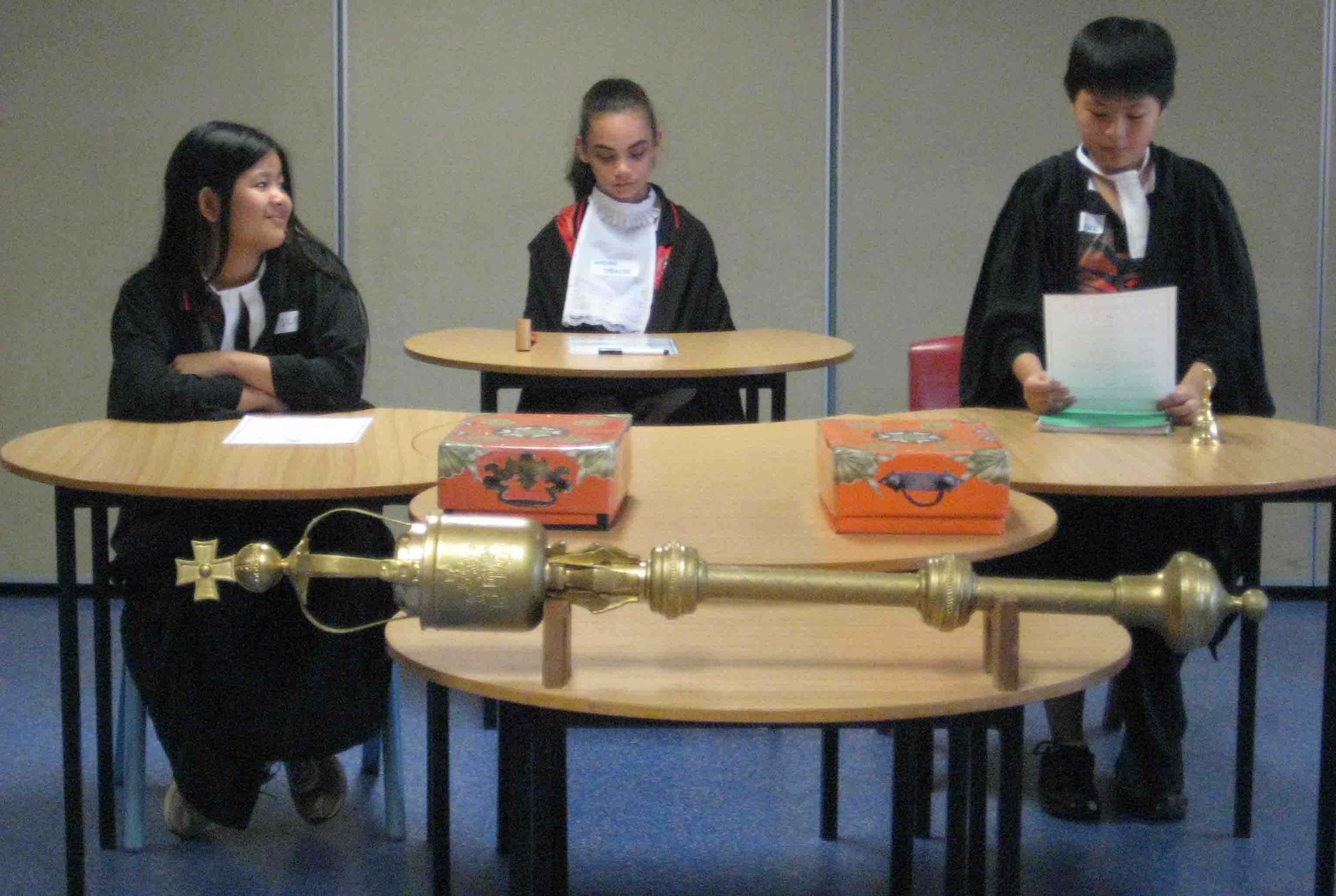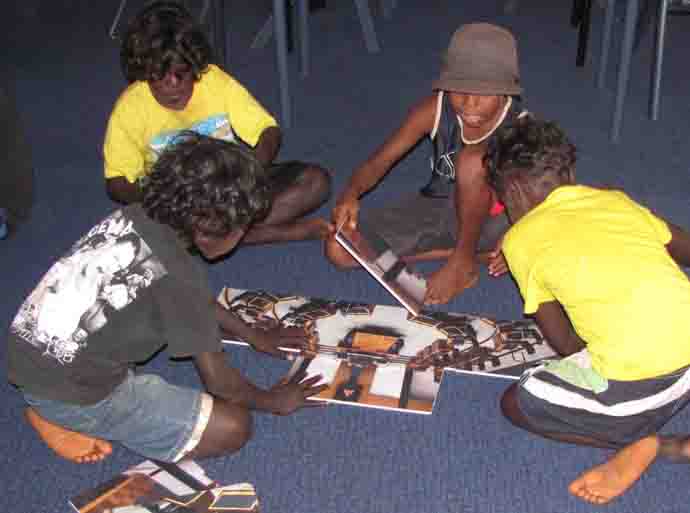 Tours of Parliament House
Schools are invited to visit Parliament House for an informative tour that explains parliamentary procedures, physical aspects of the building, the history of parliament in the Northern Territory as well as some information and background about the site on which Parliament House is built. Visits are recommended during parliamentary meeting days so school students can spend part of their tour witnessing Parliament in action from a special glassed section of the public gallery overlooking the Parliamentary Chamber. When available, Members often leave the Chamber to address students in the gallery.
In addition to a tour, Parliamentary Education Services can organise for the Northern Territory Electoral Commission (NTEC) to run one of their educational sessions. Conducted in a room at Parliament House, NTEC provides information about elections and voting and the students take part in a voting exercise to see how preferential voting really works. Parliament House tours are one hour and NTEC sessions are 45 minutes.
To assist you with planning a school excursion please click on the links below:
Legal Studies Tours
Legal Studies Tours are specifically designed to cover the content in the subject outlines for Stages 1 and 2 Legal Studies. The tours include information for Stage 1 Topics (2) People, Structures and Processes and (3) Law-making, as well as Stage 2 Topics (1) Australian Legal System, (2) Constitutional Government and (3) Law-making. Please follow the links below for further information about the content of the tour and how it is linked to the Legal Studies learning requirements.
Visits are recommended on parliamentary meeting days so that students can watch Parliament in action. Legal Studies students are invited to sit in the open galleries (rather than the glassed-in gallery) in order to fully experience the proceedings of the Assembly.
Legal Studies Tours are 60 minutes and teachers are encouraged to add an extra 30 minutes to watch parliament if visiting on a meeting day.
In addition to visiting Parliament House, our staff are available to come to your classroom to conduct a committee hearing role play. The program will run for 90 minutes, including a lesson on the role of committees.
During the committee role play, students work in groups to present evidence at a committee hearing on a proposed new law. We provide everything needed to conduct the sessions.
By participating in this activity, students can gain an understanding of the role of committees in the law making process, explore contemporary issues, examine government accountability and scrutiny, engage in critical thinking and practice public speaking.
Parliamentary Role Plays
Our staff are available to visit schools on request and conduct interactive parliamentary role play sessions in Darwin, Palmerston and surrounding areas. Role plays usually run for ninety minutes, however we are flexible and can modify all sessions to suit the age and needs of the students and requirements of the teachers.
During role plays students decide on the bills they would like to debate, write their own persuasive speeches and take on a role in parliament. We provide everything needed to accurately portray the running of a parliamentary session.
If available local Members are invited to address the class and we can organise for the Northern Territory Electoral Commission to run a session about voting and elections during the role play.
Step Up, Be Heard
Parliamentary Education Services (PES) offers Step Up, Be Heard as a program for Stage 1 and 2 Legal Studies teachers to give their students a hands-on, interactive experience in the learning of parliamentary processes and how laws are made. The program includes a series of activities that lead up to a mock parliamentary debate that will take place in Parliament House in the real Chamber with the real Speaker presiding.
The program is offered on request, is flexible in its timing, can be done with small or large classes, and can be adapted for regional areas - it has been run in Alice Springs for the past few years. The mock debate speech can be used as a formal assessment and sample assessment guides are attached to this document.
Step Up, Be Heard is ideal to use when addressing Topic 3: Law Making for both Stage 1 and Stage 2 Legal Studies.
Democracy in the NT
The Department of the Legislative Assembly in conjunction with the Supreme Court and Northern Territory Electoral Commission have developed Democracy in the NT as an educational program that promotes an understanding of the Northern Territory parliamentary, electoral and justice systems. It is designed to target a wide range of people including students at secondary and tertiary levels, community groups, new immigrants and refugees who are unfamiliar with our systems.
Participants attend an introductory session and a tour of Parliament House and if available a question and answer session with a Member of the Legislative Assembly.
The Northern Territory Electoral Commission does a presentation on the three levels of government, voting systems and elections and then runs a mock election to show how votes are counted and preferences distributed.
At the Supreme Court, participants have a short tour of the building, take part in a role play of a trial and have a question and answer session with a judge.
Each focus area runs for either 60 or 90 minutes, and can be run on different days or one morning or afternoon. Parliamentary Education Services coordinate the program on request.
Commonwealth Week
In 2022 Commonwealth Day is Monday 14 March.
Further details regarding Commonwealth Week in 2022 will be released soon.
If you are not on the Parliamentary Education Mailing List - please contact us so we can keep you up to date with news:
Email or call: 08 8946 1434
Outreach Programs
Parliamentary Education Services visit schools in regional and remote parts of the Northern Territory. We have two Outreach programs:
a 90 minute version of our parliamentary role play program which includes an informative PowerPoint presentation about Parliament, re-arranging the classroom into a Chamber (including props and costumes), assigning every student a role, deciding on a bill to debate, writing persuasive speeches and performing a mock parliamentary debate to see whether or not the bill passes.
a Remote Schools Outreach Program specifically designed for Indigenous students who are English as a Second Language learners and for whom Parliament concepts may be new. There is less focus on literacy and speaking in front of a group and more visual and hands-on activities to explain the basics of parliament. This finishes with an abridged version of the parliamentary role play. This program runs for approximately 90 minutes.
We are often accompanied by the local Member and sometimes the Speaker of the Legislative Assembly. We can organise for the Northern Territory Electoral Commission (NTEC) to run a session about voting and elections during the visit.
Last updated: 06 Oct 2021