Leisure Visitor Cost Conversion
w

WRITTEN QUESTIONS
10th Assembly
19/07/200591.
Leisure Visitor Cost ConversionMs Carney
to MINISTER
for TourismQUESTION
Leisure Visitor Cost Conversion
1. What is the current cost of conversion for a visitor (leisure) to the Northern Territory, and how has that trended over the last five years.
ANSWER
Answered on 23/11/2005
C:\DOCUME~1\gbg\LOCALS~1\Temp\notes9DD2D0\Aqsts91.doc
As the NT Tourist Commission's marketing cash budget The marketing cash budget includes Marketing and Corporate Services, but excludes cash budgets for Tourism Development, Territory Discoveries and Regional Tourist Associations where applicable over the last five years. relates to all of the Commission's marketing activities, not just those designed to increase leisure or holiday visitation, the 'cost of conversion' measure relates to the cost of converting
all
visitors to the Northern Territory.
Figure 1 shows that the cost of conversion Cost of conversion calculation: the Commission's marketing cash budget / number of overnight visitors to the NT rose over the last five years from $17 per overnight visitor in 2000 to $23 in 2004.
A notable rise in conversion costs was evident from 2002 to 2003 as the Commission's 18% marketing budget increase coincided with a global tourism downturn due to health and safety concerns arising from terrorist attacks, SARS and the Iraq war, and consequently, a 13% decrease in Northern Territory visitation. There was a 7% increase in Northern Territory visitation in 2004 but the further marketing budget increase (of 15%) kept the cost of conversion up at $23. These figures do not account for the time lag between marketing activities and impact on actual visitation.
Figure 1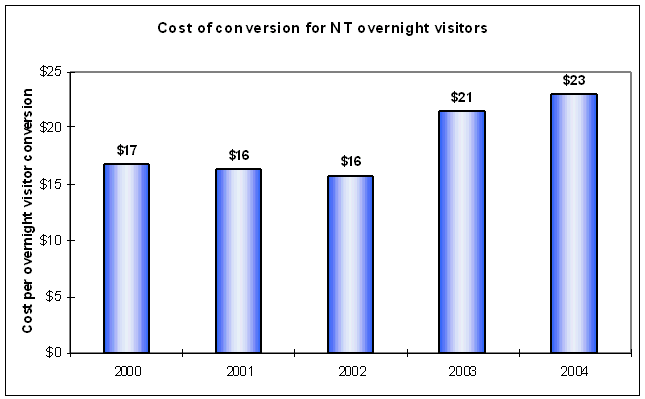 Source: Tourism Research Australia's National Visitor Survey and International Visitor Survey, and the Commission's Annual Reports and internal financial systems
Last updated: 04 Aug 2016