STD Rates in the Territory
w

WRITTEN QUESTIONS
10th Assembly
19/07/2005163.
STD Rates in the TerritoryMs Carney
to MINISTER
for HealthQUESTION
STD Rates in the Territory
1. Was there any reduction in the STD rates in the Territory in 2004-05.
2. Is the measured incidence of notifiable diseases – bacterial and sexually transmitted diseases – going up.
ANSWER
Answered on 07/02/2006
H:\EXEC\CLRK_ASS\WQST10thAssy\WQstsans\Aqsts163.doc
The statistics from the Department of Health and Community Services (DHCS) Surveillance January – June 2005 demonstrates that there is no reduction in the overall rates of sexually transmitted diseases (STD) in the Territory 2004-05.
The same statistics demonstrate that measured incidence of notifiable diseases - bacterial and sexually transmitted diseases - are going up.
Data concerning Sexually transmitted infection (STI) notifications in recent years are displayed below. The 2004 annual rates for gonorrhoea, chlamydia, syphilis and trichomoniasis were 792, 820, 145 and 281 cases per 100,000 population respectively.
Table: Number and annualised rate of notifiable STIs for the first half of the year, NT, 2004-2005
QuarterGonorrhoeaChlamydiaSyphilisTrichomoniasis
CasesRateCasesRateCaseRateCaseRate
2005
Jan-Mar443874.0386761.64486.8168331.5
Apr-Jun5581100.9477941.168134.2179353.2
Total1001987.5863851.4112110.5347342.3
2004
Jan-Mar376752.3379758.367134.1179358.2
Apr-Jun452904.4448896.485170.1115230.1
Total828828.4827827.4156156.1294294.1
Figure: Rates of notifiable STIs, NT, 2000-2004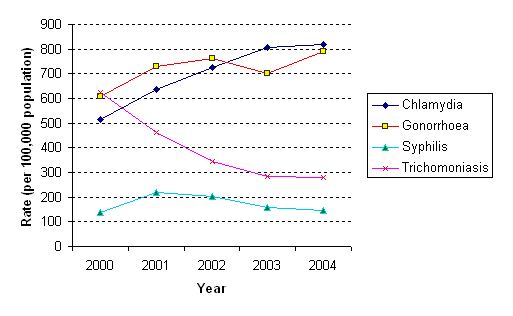 Over the past five years the trend for notifications of gonorrhoea and chlamydia has been consistently upwards. This has been the case since the mid 1990s. It is likely that a great deal of this increase has been due to the availability of polymerase chain reaction tests. This technology allows people to be tested using a urine test or a vaginal swab a woman can take herself and so is much more acceptable to access. This has been accompanied by a great increase in the amount of testing. However, it is thought that, in relation to chlamydia, there has been a true increase in disease transmission throughout Australia that is responsible for the increased rates.
Syphilis notifications have been slowly declining over the past 5-10 years.
Trichomonas notifications have been declining in the past five years. However, it is highly likely that this is due to decreased testing related to variable and declining (until recently) availability of the polymerase chain reaction tests from laboratories.
Last updated: 04 Aug 2016