Tourism Budget Increase
w

WRITTEN QUESTIONS
10th Assembly
19/07/200592.
Tourism Budget IncreaseMs Carney
to MINISTER
for TourismQUESTION
Tourism Budget Increase
1. With the significant increase in the tourism budget (not sure what the figures are exactly) has this evidenced itself in increased visitation?
ANSWER
Answered on 23/11/2005
C:\DOCUME~1\gbg\LOCALS~1\Temp\notes9DD2D0\Aqsts92.doc
The Commission's 17% cash budget increase in 2003 coincided with a global tourism downturn due to health and safety concerns arising from terrorist attacks, SARS and the Iraq war, resulting in visitation declines for both Australia (down 2%) and the Northern Territory (down 13%).
However, the further 11% increase in the Commission's cash budget in 2004 resulted in a 7%
increase
in Northern Territory visitation (refer to Figure 1). This recovery was evident to a lesser extent from a national perspective, as Australia's visitor numbers increased by 1% compared to 2003.
Figure 1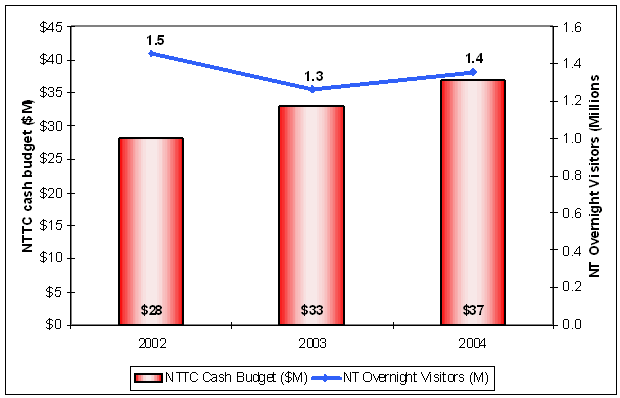 Source: Tourism Research Australia's National Visitor Survey and International Visitor Survey, and the Commission's Annual Reports and internal financial systems
Last updated: 04 Aug 2016